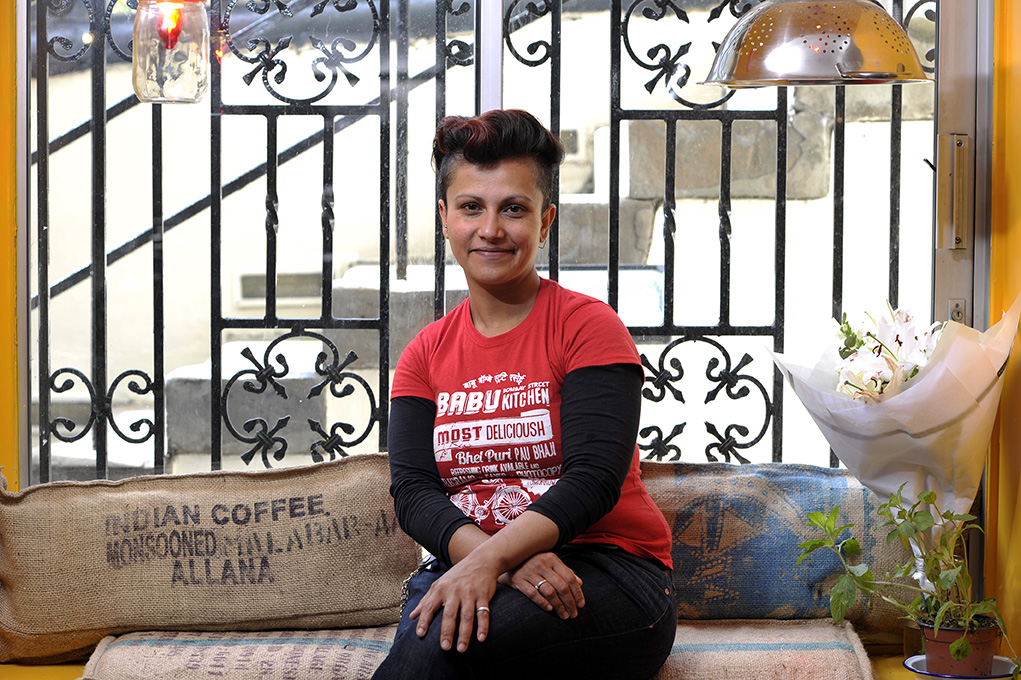 I have been lucky to have had the support of Jobs & Business Glasgow (JBG) from the start.
The Babu Bombay Street Kitchen started off with very modest beginnings at the weekly Glasgow farmers markets, and that's when I started to gain JBG's advice and support for the business.  It wasn't long after that we were able to spread our wings and do the markets further afield in places such as Stirling, Edinburgh, Loch Lomond and Cumnock.
After a couple of years of sheer hard work selling our wares come rain, shine, snow
or hail, we acquired city premises, which has now become Babu Kitchen HQ. For the last three years, this premises has been running as a successful restaurant/café and the base for managing various catering gigs. Within this time we also acquired a catering trailer that travels to various festivals and weddings across Scotland.
As a result, we now employ up to 10 people across part-time and full-time positions.
Throughout this whole transition process Jobs & Business Glasgow has been in the background, holding our hand like a silent business partner. JBG has helped us with understanding the pitfalls of business, opened up opportunities to get funding via grants and provided ongoing support throughout all areas of developing the business and the brand. This even includes the marketing aspects, such as help to devise our website.
Babu Kitchen is now at another crucial and exciting stage in its development, as we look to acquire bigger premises in the southside of Glasgow. Without a doubt, I will be looking for specialist support from JBG to help successfully manage the move so we can realise growth.
We'll be looking to JBG for advice on how to grow our business by acquiring new premises and what we can access through grants and other channels to help fund the growth.
There's no doubt JBG has been instrumental in getting Babu Kitchen to where it is now. It's a fantastic business agency that is an essential resource and support to any new start looking for expert advice.
For business start-up advice or ongoing enterprise support contact Jobs & Business Glasgow on 0141 274 3333