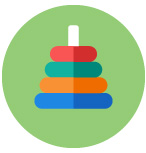 A warm welcome to Rising Stars nurseries
Our nurseries provide a safe and stimulating environment for children aged from 6 weeks to 5 years.
Our experience has taught us that children settle well at nursery when strong partnerships are made between parents and staff. We value your advice and will seek your support in building routines that are recognisable and comforting to your child. We encourage children to bring a familiar object from home such as a teddy or blanket and offer an extended settling in period where parents are invited to stay with their child until they have adjusted to their new environment. To build open communications, we will provide regular detailed feedback on your child's development and invite you to the nursery for events throughout the year.
Confident, effective staff
You can place your confidence in our qualified staff team who are registered on both the Scottish Social Services Council, the benchmark for qualifications in the workforce, and the Protecting Vulnerable Groups Scheme (PVG), the protection of children and vulnerable adults. Paediatric First Aid qualifications are obtained to ensure the management of emergency scenarios and our staff maintain skill development in various learning specialisms through continued professional development.
Our qualified childcare team are motivated to support your child's cognitive, emotional, social and physical development.
The best start for your child
We carefully design your child's individual learning plan following the Scottish Government's 'Early Years Framework', which focuses on giving all children the best start in life. Babies and young children need a healthy balanced diet to support brain function as well as other aspects of physical development. We prepare varied and nutritional menu plans approved by an NHS Dietician and NHS Oral Health Team to ensure healthy growth and development. We also encourage physical activity though play to develop awareness of the world around them.
With over 20 years' experience delivering early learning and childcare services, Rising Stars Childcare are proud that thousands of families have entrusted us to care and educate their children.
Our nurseries can be found in the following areas of the City:
Please email: risingstars@jbg.org.uk or call 0141 274 3174 for more information.