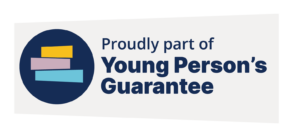 What is it?
We are proudly part of the Scottish Government's newly launched initiative, Young Person's Guarantee, which provides Scotland's young people, aged 16 to 24, who are not in employment, training or education, the opportunity of:
a job,
a placement,
an apprenticeship,
further education,
training programmes,
or volunteering.
Start your journey
There are no set routes or specified time frames for you to start your journey.
The programme offers advice and assistance on what options are available to best suit your needs and ideas about your own future.
There are many routes open to you – for example you could:
undertake an apprenticeship
carry out work experience
take part in a volunteering programme
secure a job
undertake some training
go to college or university.
What's best for you?
If you have no idea what's best for you – don't worry!
We are committed to delivering opportunities as part of the Young Person's Guarantee and can help you to decide what you would like to do – based on your own interests. Whatever path you choose to follow – the programme will connect you to the right sources of information and opportunities to help your future.
Next steps
Call and ask to speak to our Young Person's Guarantee staff, on freephone 0300 123 2898