Work in hospitality
Hospitality is a vast and varied industry with many different job options that offer great career opportunities.
Hospitality is mainly about service, so if you're friendly and welcoming and love dealing with lots of different people, then that's a great starting point for a career in this industry. However, some jobs do have limited contact with the public so there's really something for everyone.
Different hospitality environments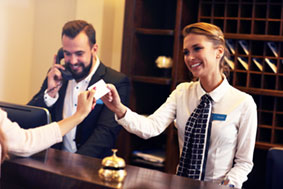 Hotels
Example areas: Front Desk, Guest Relations, Housekeeping, Maintenance, Food and Beverage handling, Food preparation, Concierge, Sales, and Management.
Bars, Restaurants, & Cafés
Example jobs: Bartender, Chef, Waiting Staff, Barista, Baker, Sales Assistant, Kitchen Assistant, Host, Cleaner, and Manager.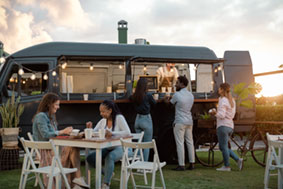 Events
Example events: Corporate (business meetings, conferences, etc.), sporting, music, private (weddings, birthday parties, etc.), and charity (fundraisers, awards, etc.).
Hospitality skills
Communication
Problem solving
Flexibility
Time management
Attention to detail
Calm under pressure
Top 5 entry level jobs
kitchen assistant
bar and waiting attendant
event staff
housekeeping
front desk/ receptionist

Take part in our free, 5-day hospitality training course which covers the key areas of the industry and provides recognised certification.
No previous experience or qualifications are necessary. This course will support those new to hospitality, and also those who would like to refresh their skills.
On completion of the training, participants take part in a 4-week paid hospitality work trial with a view to permanent employment in the sector. 
Course Title: Hospitality Training
Location: Ladywell Business Centre, 94 Duke Street, Glasgow, G4 0UW
Duration: 5 days
Cost: Free
Eligibility: Glasgow City Council residents
To check the next available course dates, or to book a place:
Call Freephone: 0300 123 2898
Email: contact@jbg.org.uk